Northern Star Hotel Menu and Takeaway in Newcastle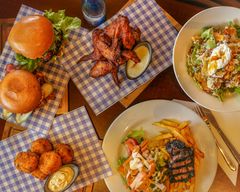 Location and hours
112 Beaumont St, Hamilton, NSW 2303
Sunday
05:30 pm - 08:00 pm
Menu
11:30 am - 02:30 pm
Menu
Monday
Closed
Tuesday - Saturday
05:30 pm - 08:00 pm
Menu
11:30 am - 02:30 pm
Menu
Northern Star Hotel
Enter your address above to see fees and delivery + pick-up estimates.
Mains

Crunchy chips and choice of sauce

Beef & Guinnes Mushroom Pie

served with creamy mash potato and gravy
* Please allow 20 minutes cooking time.

Fresh Chilli, Prawns, Tomato, Linguine and Basil

Grilled Vegetables and Linguine in a Creamy Zucchini Pesto Sauce

Blackened Cajun Barramundi (gf)

300g Char Grilled Scotch Fillet (gf)

Chicken Schnitzel Parmigiana (Bacon, Nap, Cheese)

Crumbed Chicken Schnitzel A.B.C (Avocado, Bacon, Cheese)

Kids Meals

Crumbed fish and crunchy chips

Child Chicken Nuggets and Chips

Drinks

coke , coke no sugar , diet coke , lemonade , Sunkist , solo

Entrees & Light Bites

Garlic Bread (v)

Cheesy Garlic Bread (v)

Loaded Bruschetta (v)

Tomato, Red Onion, Basil, Feta, Avocado, Bacon and Balsamic Glaze

Oysters

Natural Oysters 1/2 Dozen

Oysters Kilpatrick 1/2 Dozen

Burgers

House-made Beef Pattie, Tomato Chutney, American Cheddar, Lettuce, Beetroot
On a Milk Bun, Served with Chips

The Veggie Burger (v)

Veggie pattie, Lettuce, Smashed Avocado and Aioli on a Milk Bun
Served With Sweet Potato fries

Southern Fried Chicken Burger

Crispy Fried Chicken, Maple Bacon, American Cheddar with Slaw
On a Milk Bun, served with Chips

Sauces
Frequently asked questions
Can I order Northern Star Hotel takeaway in Newcastle with Uber Eats?
Yes. Northern Star Hotel takeaway is available on Uber Eats in Newcastle.
Is Northern Star Hotel delivery available near me?
Northern Star Hotel delivery might not be available everywhere in Newcastle, so enter your address to see if it's available near you.
How do I order Northern Star Hotel takeaway online in Newcastle?
There are 2 ways to place an order on Uber Eats: on the app or online using the Uber Eats website. After you've looked over the Northern Star Hotel menu, simply choose the items you'd like to order and add them to your cart. Next, you'll be able to review, place and track your order.
What's the best thing to order for Northern Star Hotel takeaway in Newcastle?
What's best at Northern Star Hotel is totally up to you and your personal preference. If you're in need of some inspiration, consider trying one of the items featured in "Picked for you".
How do I get $0 Delivery Fee at Northern Star Hotel in Newcastle?
The Delivery Fees may vary depending on a number of factors, like your location. Enter your Newcastle address to see the current Delivery Fee. You can also explore the Uber Eats membership and subscription options available in your area to see if you can save money on Northern Star Hotel delivery with $0 Delivery Fee on select orders.