Mulan Restaurant Menu and Delivery in Hobart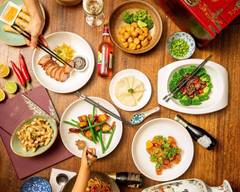 Location and hours
343 Elizabeth St, North Hobart, Tasmania 7000
Sunday
12:00 pm - 2:30 pm
Menu
5:00 pm - 9:00 pm
Menu
8:30 pm - 10:00 pm
late night
Monday - Wednesday
5:00 pm - 8:30 pm
Menu
8:30 pm - 10:00 pm
late night
Thursday
12:00 pm - 2:00 pm
Menu
5:00 pm - 8:30 pm
Menu
8:30 pm - 10:00 pm
late night
Friday
12:00 pm - 2:00 pm
Menu
5:00 pm - 9:00 pm
Menu
8:30 pm - 10:00 pm
late night
Saturday
12:00 pm - 2:30 pm
Menu
5:00 pm - 9:00 pm
Menu
8:30 pm - 10:00 pm
late night
Mulan Restaurant
Enter your address above to see fees and delivery + pick-up estimates.
Wish you could ask Mulan Restaurant customers what to order here? Of the 50 things on the menu at this evening go-to, the Steamed Rice is one of the most-ordered items. • $$ •
Chinese
 • 
Asian
 • 
Seafood
 • 
Allergy-friendly
Picked for you

Entrees (Vegetarian)

Vegetarian Spring Rolls

Vegetarian Spring Rolls 的副本

Salt and Pepper Tofu

Steamed Vegetarian Dumplings

Appetizer

Salt and Pepper Calamari, Fennel and Cumin

Duck Lettuce Wrap 'Sung Choy Bao'

Finely diced roast duck breast, beans, onions and hoi sin sauce served with fresh baby lettuce leaves.

Soup

Chicken and Sweet Corn Soup

Diced prawn, pork mince and shiitake in chicken broth.

Large king prawn, Tasmanian scallop, calamari, pink ling fillet, silken tofu and mushroom.

Noodles and Rice

Hokkien Noodles with Seafood Combination

Prawn, barbecued pork, fragrant curry spiced, and wok tossed with rice vermicelli noodles.

Beef&Black Bean Hokkien Noodle

Thick egg noodles stir fried with eye fillet, capsicum, ans vegetables in black bean sauce

Fried Rice with BBQ pork & Seafood Combo

Home roasted BBQ pork, extra large king prawns, deep sea scallops, calamari and pink ling fillets, dark soy sauce and bean paste

Poultry Mains

Peking Style Roasted Duck Breast

Two pieces of duck breasts tenderly roasted then sliced. Served with pancakes and hoi sin sauce.

Taiwan style. Chicken thigh, Shaoxing wine, light soy sauce, sesame oil, fresh chili and basil.

Fried Chicken with Crispy Chili

Chicken thigh fillets, batter then deep fried, then sauteed with crispy mild chili, green peppercorn and roasted peanuts

Beef and Lamb Mains

Yearling Eye Fillets Cubes in Honey Soya Black Pepper

Yearling Eye Fillets Cubes in Teriyaki Sauce

Lamb with Mongolian Sauce

220 gram.Wok seared finely sliced lamb tenderloin with Mongolian sauce and vegetables

Beef spare ribs, pan fried with ginger, garlic and shallot until golden and fragrant. Add Chinese five spice, star anise, bay leaves,shaoxing wine and broth, slow cook for two hours.

Pork Mains

Crispy Pork Fillets with Spice Salt

Pork tenderloin, crispy flour battered, wok tossed with cumin, fennel, Chinese five spices, salt and pepper, served with Asian salad

Seafood Mains

Salt and Pepper King Prawn

Eight pieces. Battered then deep fried, wok tossed with Chinese five spices salt and pepper.

Shanghai Style Pink Ling Fillet

280 gram. Sauteed with Chinese fermented glutinous rice wine and Szechuan chili paste.

King prawns, batter then deep fried, wok tossed with Tasmanian honey, roasted sesame seeds.

Mains (Vegetarian)

Steamed Gai Lan

Crispy Eggplant

Crispy eggplant strips with soya, black aged vinegar and bean paste.

Buddha's Delight

Mix seasonal vegetables, fried bean curd, shiitake, and enokitake.

Sweet and Sour Lotus Root with Black Fungus

Sauteed Chinese Broccoli with Ginger & Garlic
Frequently asked questions
Can I order Mulan Restaurant delivery in Hobart with Uber Eats?
Yes. Mulan Restaurant delivery is available on Uber Eats in Hobart.
Is Mulan Restaurant delivery available near me?
Enter your address to see if Mulan Restaurant delivery is available to your location in Hobart.
How do I order Mulan Restaurant delivery online in Hobart?
There are 2 ways to place an order on Uber Eats: on the app or online using the Uber Eats website. After you've looked over the Mulan Restaurant menu, simply choose the items you'd like to order and add them to your cart. Next, you'll be able to review, place, and track your order.
Where can I find Mulan Restaurant online menu prices?
View upfront pricing information for the various items offered by Mulan Restaurant here on this page.
How do I get free delivery on my Mulan Restaurant order?
To save money on the delivery, consider getting an Uber One membership, if available in your area, as one of its perks is a $0 Delivery Fee on select orders.
How do I pay for my Mulan Restaurant order?
Payment is handled via your Uber Eats account.
What's the best thing to order for Mulan Restaurant delivery in Hobart?
If you're in need of some suggestions for your Mulan Restaurant order, check out the items showcased in "Picked for you" on this page.