Miss An'am Menu and Takeaway in Melbourne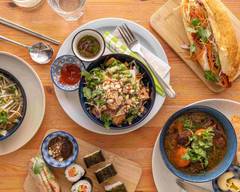 Location and hours
86a Charles Street, Seddon, Victoria VIC 3011
Sunday
Closed
Monday - Tuesday
08:30 am - 02:30 pm
Breakfast
08:30 am - 02:30 pm
Lunch and Dinner
08:00 am - 02:30 pm
Drinks
Wednesday
08:30 am - 02:30 pm
Breakfast
08:30 am - 02:30 pm
Lunch and Dinner
05:30 pm - 08:00 pm
Lunch and Dinner
08:00 am - 02:30 pm
Drinks
05:00 pm - 08:00 pm
Drinks
Thursday
08:30 am - 02:30 pm
Breakfast
05:30 pm - 08:00 pm
Lunch and Dinner
08:30 am - 02:30 pm
Lunch and Dinner
08:00 am - 02:30 pm
Drinks
05:00 pm - 08:00 pm
Drinks
Friday
08:30 am - 02:30 pm
Breakfast
08:30 am - 02:30 pm
Lunch and Dinner
05:30 pm - 08:00 pm
Lunch and Dinner
08:00 am - 02:30 pm
Drinks
05:00 pm - 08:00 pm
Drinks
Saturday
08:30 am - 02:30 pm
Breakfast
08:30 am - 02:30 pm
Breakfast
08:30 am - 02:30 pm
Lunch and Dinner
Miss An'am
Enter your address above to see fees and delivery + pick-up estimates.
All day breakfast

Meal includes a regular coffee and a banh mi roll.
Banh mi is made of toasted crunchy rolls filled with pickled carrot, cabbage
slaw, coriander, and dried shallot and one of following filling.
Breakfast: bacon and eggs, served with sriracha mayo
Vegetarian: marinated tofu and mushrooms, served with wasabi mayo
Slow cook beef: served with sriracha hot sauce

A regular coffee and banana bread toasted with butter.

A regular coffee and a toasted filled croissant.
$0 Delivery Fee (Spend $30)