Metro (Clifton Hill) Menu and Takeaway in Melbourne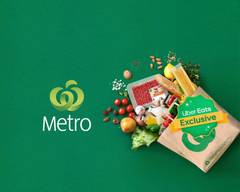 Location and hours
141-147 Queens Parade, Clifton Hill, VIC 3068
Every day
08:00 am - 09:00 pm
Metro (Clifton Hill)
4.8 (196 ratings) • Grocery • $
  •  
More info
141-147 Queens Parade, Clifton Hill, VIC 3068
Tap for hours, info and more
Enter your address above to see fees and delivery + pick-up estimates.
My Muscle Chef Chipotle Chicken Burrito Bowl 450g

La Famiglia Garlic Bread Slices 270g

Latina Fresh Creamy Carbonara 700g

Dari's Chicken Noodle Soup 550g

Latina Fresh Creamy Sundried Tomato Pasta Sauce 425g

Dari's Hearty Chicken Soup 550g

La Zuppa Microwave Soup Chicken Veg & Wholegrain Rice 420g

Picasso Kitchen Pizza Base 260g

La Zuppa Soup Pouch Roasted Pumpkin 540g

Latina Fresh Beef Ravioli 625g

Rana Pumpkin & Onion Ravioli Fresh Pasta 325g

My Muscle Chef Beef Stroganoff & Spinach Fettuccine 330g

Rana Ricotta & Spinach Tortellini 565g

My Muscle Chef Crumbed Chicken & Roasted Potatoes 340g

Rana Ricotta & Spinach Tortellini Pasta 325g

My Muscle Chef Lemon Pepper Chicken 330g

My Muscle Chef Pesto Chicken Pasta 330g

My Muscle Chef Smokey Bbq Brisket & Kale Chilled Meal 360g

Woolworths Butter Chicken With Rice 350g

Ben & Jerry's Ice Cream Cookie Dough 458ml

Cadbury Dairy Milk Choc 180g

Cadbury Dairy Milk Hazelnut 180g

Mount Franklin Still Water 600ml

Doritos Corn Chips Cheese Supreme 170g

Doritos Salsa Dip Mild 300g

Peters Drumstick Ice Cream Vanilla 4Pk

Doritos Salsa Dip Mild 300g

Old El Paso Hard n Soft Taco Kit 350g

Ben's Original Brown Mexican Style Microwave Rice 250g

Macro Free Range Chicken Stir Fry 500g

Obela Classic Guacamole 220g

Mission Tortilla Strips White Corn 230g

Old El Paso Mexican Taco Spice Mix 30g

Old El Paso Fajita Dinner Kit 485g

Woolworths Corn Sweet 500g Pack

Uncle Ben's Microwave Mexican Style Rice 250g

Woolworths Cos Hearts Lettuce 2 Pack

Woolworths Solanato Tomato 200g

Aussie Sprouts Bean Sprouts 250g

Woolworths Baby Leaf Salad & Beetroot Bag 180g

Woolworths Baby Leaf Spinach 120g

Woolworths Fresh Continental Parsley Bunch

Driscoll's Fresh Raspberry 125g

Woolworths Baby Spinach Salad With Rocket 60g Bag

Woolworths Fresh Coriander Bunch

Woolworths Fresh Mint Bunch

Fresh Granny Smith Apples Each

Country Fresh Exotic Mushroom Risotto Mix 150g

Woolworths Green Basil Bunch

Macro Grass Fed Australian Beef Mince 500g

Macro Free Range Chicken Stir Fry 500g

Salamanca Seafood Company Basa Skin Off Fillet Value Pack 400g

De Costi Cooked Prawns Peeled With Cocktail Sauce 260g

Ingham's Turkey Mince 500g

Macro Grass Fed Beef Burger 500g

Woolworths Chicken Mince 500g

Woolworths COOK Slow Cooked Pork Ribs In Smokey BBQ Sauce 650g

De Costi Prawns Lemon & Garlic Butter 280g

Woolworths Lamb Leg Steak 270g

Woolworths Aussie Beef Sausage Honey Flavour 600g

Woolworths Beef Eye Fillet Thick Cut Steak 320g

Woolworths Salmon Portions Skin On 2 Pack

De Costi Salt & Pepper Squid 270g

Woolworths Salmon Portions Skin On 4 Pack

Bio Cheese Cheddar Slices 200g

Plantein Plant Based Schnitzel 300g

Bio Cheese Shred Pizza 200g

Macro Honey Soy Tofu 200g

Bonsoy Long Life Soy Milk 1l

Dairy Farmers Heart Active Light Milk 1l

Made With Plants Dairy Free Sour Cream 250ml

Pauls Zymil Lactose Free Full Cream Milk 1l

Honest Egg Co 12 Large Free Range Eggs 700g

Bega Farmers' Tasty Cheese 250g

Flora Margarine Spread Original 500g

Australia's Own Barista Almond 1l

Castello Blue Cheese Creamy 150g

Chobani Fit Vanilla Greek Yoghurt 170g

Flora Proactiv Cholesterol Lowering Margarine Original 250g

Bio Cheese Cheddar Slices 200g

Devondale Full Cream Long Life Pure Milk 1l

Bega Strong & Bitey Vintage Cheese 500g

Chobani Flip Cookies & Cream Crunch 140g

Lurpak Slightly Salted Danish Butter 250g

Bio Cheese Shred Pizza 200g

Perfect Italiano Original Ricotta 250g

Nestle Sweetened Condensed Milk 395g

Great Temptations Gluten Free Double Choc Chip Muffins 4Pk

Mission Wraps Original 8Pk

Abbott's Bakery Country Grains Sandwich Slice Bread Loaf 800g

Toscano French Butter Crepes 200g

Mission Wraps Spinach & Herb 8Pk

Abbott's Bakery Farmhouse Wholemeal Sandwich Slice Bread Loaf 750g

Mission Wraps Wholegrain 8Pk

Abbott's Bakery Light Rye Sandiwch Slice Bread Loaf 680g

Abe's Bagel Bakery Natural Bagels 4Pk

Woolworths Banana Bread Slices 5Pk

Woolworths Caramel Slices 4Pk

Woolworths Dreamy Chocolate Chip Cookies 5 Pack

Woolworths Indulgent Chocolate & Caramel Cake 400g

Deli Meats, Dips & Cheese

Woolworths Short Cut Bacon 200g

Chris' Dips Tzatziki 200g

Castello Blue Cheese Creamy 150g

D'Orsogna Bacon Streaky 200g

Maggie Beer Quince Paste 100g

Meredith Dairy Goat Cheese In Olive Oil 320g

D'Orsogna Ham Honey Leg Shaved 400g

OB Finest Quince Paste 100g

OB Finest Speciality Crackers Cranberry Pumpkin 150g

D'Orsogna Ham Leg Shaved 400g

Obela Hommus Garnished With Roasted Pinenut 220g

OB Finest Speciality Crackers Fig & Pecan 150g

D'Orsogna Maple Glazed Streaky Bacon 200g

Obela Hommus Garnished With Zesty Jalapenos 220g

President Brie Cheese 200g

Obela Hommus Smooth Classic 220g

Thomas Dux Spanish Manchego Cheese 150g

D'Orsogna Tasty Stick Mild 400g

Thomas Dux Triple Cream Brie 200g

D'Orsogna Tasty Sticks Mild 200g

Arnott's Shapes Crackers BBQ 175g

Allen's Bites Mini Chocolate Coated Raspberries 140g

Arnott's Milk Arrowroot Plain Biscuits 250g

Arnott's Shapes Crackers Chicken Crimpy 175g

Allen's Butter-Menthol Throat Lozenge 3Pk

Arnott's Mint Slice Chocolate 200g

Arnott's Shapes Crackers Pizza 190g

Arnott's Monte Carlo Cream 250g

Arnott's Premier Chocolate Choc Chip 310g

Allen's Minties Mint Chew 150g

Doritos Corn Chips Cheese Supreme 170g

Allen's Retro Party Mix 190g

Arnott's Scotch Finger Plain Biscuits 250g

Doritos Corn Chips Cheese Supreme 60g

Allen's Snakes Alive Jelly 200g

Arnott's Shortbread Cream Biscuits 250g

Bhuja Ancient Grains Mix 140g

Arnott's Cruskits Crispbreads Original 125g

Arnott's Salada Crackers Crispbreads 250g

Body Science Collagen Low Carb Protein Bar Peanut Butter Chocolate 60g

Arnott's Savoy Original 225g

Body Science High Protein Bar Low Carb Salted Caramel 60g

Calbee Harvest Snaps Lightly Salted 93g

Arnott's Vita Weat Crispbread 9 Grain 250g

Bounce Natural Energy Ball Coconut Macadamia Protein 40g

Calbee Harvest Snaps Pea Salt & Vinegar Baked Crisps 93g

Ceres Brown Rice Cakes Original 110g

Peckish Thins Rice Crackers Cheddar Cheese 100g

Carman's Almond, Hazelnut Vanilla Nut Bars 5Pk

Cobs Natural Popcorn Best Ever Butter 90g

Peckish Thins Rice Crackers Original 100g

Carman's Aussie Oat Choc Chip Bars 6Pk

Cobs Popcorn Lightly Salted Slightly Sweet Gluten Free 120g

Bickford's Lemon Cordial 750ml

Mother Energy Drink Original Can 500ml

Powerade Flo Cap Berry Ice 600ml

Daily Juice Orange Juice No Added Sugar 2l

Powerade Flo Cap Mountain Blast 600ml

Bundaberg Ginger Beer 4Pk

Daily Juice Pulp Free Orange Juice 2l

Golden Circle Drinks Pine Mango 1l

Golden Circle Golden Pash Fruit Drink 1l

Impressed Cold Pressed Ginger Ninja Juice 1l

V Energy Energy Drink 250ml

Impressed Easy Greens Juice 1l

Connoisseur Ice Cream Cookies & Cream 1l

Nanna's Pies & Desserts Apple Pie 4Pk

Ben & Jerry's Ice Cream Choc Fudge Brownie 458ml

Ben & Jerry's Ice Cream Cookie Dough 458ml

Bulla Creamy Classics Vanilla 2l

Barilla Pasta Gluten Free Spaghetti 340g

Campbell's Real Beef Liquid Stock 1l

Aeroplane Jelly Original Lime 85g

Barilla Pasta Penne Rigate 500g

Beechworth Bee Cause Bush Honey 400g

Betty Crocker Devil's Food Cake Mix 540g

Annalisa Diced Tomatoes Basil & Oregano 400g

Chatime Bubble Milk Tea With Pearls 4Pk

Aeroplane Jelly Original Strawberry 85g

Barilla Pasta Rigatoni 500g

Bega Peanut Butter Crunchy 375g

Always Fresh Olives Black Sliced 235g

Betty Crocker Vanilla Frosting 400g

Brunswick Sardines In Olive Oil 106g

Campbell's Real Chicken Liquid Stock 1l

Cobram Estate Classic Extra Virgin Olive Oil 750ml

Macro Organic Frozen Blueberries 450g

Ben & Jerry's Ice Cream Choc Fudge Brownie 458ml

I & J Frozen Calamari Rings 400g

Borg's Pastizzis Triangles Spinach & Ricotta 360g

Woolworths Frozen Beef Lasagne 375g

Macro Organic Frozen Mixed Berries 450g

Ben & Jerry's Ice Cream Cookie Dough 458ml

Ingham's Chicken Breast Tenders Sweet Chilli 400g

Cheesebuddy Gluten Free Cheese Puffs 450g

Woolworths Frozen Blueberries 500g

Bulla Creamy Classics Vanilla 2l

Ingham's Crumbed Chicken Breast Nuggets 400g

Dr. Oetker Ristorante Pizza Peperoni 310g

Fry's Meat Free Schnitzels With Soy & Flaxseed 320g

Woolworths Broccoli Florets 500g

Woolworths Frozen Mango 500g

Connoisseur Ice Cream Belgian Chocolate 1l

Just Caught Raw Prawn Meat 300g

Four'N Twenty Pies Meat 4Pk

Woolworths Potato Wedges 750g

Band-Aid Tough Strips Brand 40Pk

Libra Ultra Thins Pads Wings Regular 14Pk

Berocca Vitamin B&C Orange Flavour 30Pk

Balnea Aloe Vera Antibacterial Hand Wash 250ml

Durex Pleasure Me Condoms 10Pk

All Smiles Total Care Dental Floss 50m Each

Betadine Ready To Use Sore Throat Gargle Treatment 120ml

U by Kotex Designer Series Protect Liners 30Pk

Hydralyte Effervescent Electrolyte Tablets Orange 10Pk

ClearWipe Lens Cleaner 20Pk

First Response Pregnancy Test Instream Test 3 Pack

Colgate Optic White Expert Stain-Less Teeth Whitening Toothpaste 85g

Bondi Sands Self Tan Foam Dark 200ml

Gaviscon Dual Action Heartburn & Indigestion Chewable Tablets 16Pk

U by Kotex Overnight Pads Extra 10 Pack

Metamucil Orange Smooth Fibre 673g

First Response Pregnancy Test Stream Each

Colgate Slim Soft Charcoal Infused Bristles Toothbrush Soft Each

Cancer Council Spf 50+ Sunscreen Sport 110ml

Help@Hand Cotton Tips Recycled Cane 200Pk

Babylove Nappy Pants Junior 15-25kg 22Pk

Johnson's Baby Powder Pure Cornstarch With Aloe & Vitamin E 255g

Kiddylicious Veggie Straws 12g

Babylove Nappy Pants Walker 12-17kg 25Pk

Little One's Baby Wipes Scented 80Pk

Macro Baby Organic 6 Months+ Apple & Pear 120g

Little One's Baby Wipes 80Pk

Sudocrem Nappy Cream Healing 125g

Little One's Size 1 Ultra Dry Nappies Newborn Up To 5kg Boys & Girls 30Pk

Optimum Furball With Chicken 1+ Years 2kg

Apollo Traditional Lamb 100g

Whiskas 1+ Years Chicken Mince 400g

My Dog Beef Gourmet Loaf Classic 100g

Whiskas 1+ Years Wet Food Beef Mince 400g

My Dog Chicken Supreme Loaf Classics 100g

Quilton Classic Toilet Tissue 3Ply 8Pk

Armada Aluminium Foil Heavy Duty 30cmx20m Each

Ansell Gloves Handy Clean Disposable 24 Pack

Earth Choice Fabric Softener 1l

Azure Facial Tissue Hypo Allergenic Each

Easy-Off Bam Oven Cleaner Heavy Duty 325g

Earth Choice Top & Front Loader 1l

Armada Cling Wrap 33cmx60m

Glen 20 Disinfectant Spray Original Scent 300g

Energizer Max AAA Batteries 4Pk

Handee Ultra Paper Towel 120 Sheets 2Pk

Armada Large Kitchen Tidy Bag Lavender/Lemon Scented 25Pk

Jif Cream Cleanser With Micro Particles Lemon 500ml

Essentials Serviettes White 1Ply 100Pk

Icare 100% Recycled Toilet Tissue Double Length 3Ply 6Pk

Armada Resealable Sandwich Bags 120Pk

Macro Bath & Shower Cleaner Lemongrass & Pine 500ml

Korbond Happy Birthday Balloons 20 Pack

Armada Resealable Snack Bags 50Pk
Frequently asked questions
Can I order Metro (Clifton Hill) takeaway in Melbourne with Uber Eats?
Yes. Metro (Clifton Hill) takeaway is available on Uber Eats in Melbourne.
Is Metro (Clifton Hill) delivery available near me?
Metro (Clifton Hill) delivery might not be available everywhere in Melbourne, so enter your address to see if it's available near you.
How do I order Metro (Clifton Hill) takeaway online in Melbourne?
There are 2 ways to place an order on Uber Eats: on the app or online using the Uber Eats website. After you've looked over the Metro (Clifton Hill) menu, simply choose the items you'd like to order and add them to your cart. Next, you'll be able to review, place and track your order.
What's the best thing to order for Metro (Clifton Hill) takeaway in Melbourne?
What's best at Metro (Clifton Hill) is totally up to you and your personal preference. If you're in need of some inspiration, consider trying one of the items featured in "Picked for you".
How do I get $0 Delivery Fee at Metro (Clifton Hill) in Melbourne?
The Delivery Fees may vary depending on a number of factors, like your location. Enter your Melbourne address to see the current Delivery Fee. You can also explore the Uber Eats membership and subscription options available in your area to see if you can save money on Metro (Clifton Hill) delivery with $0 Delivery Fee on select orders.