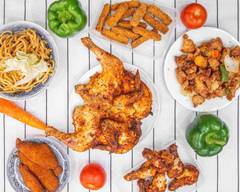 Location and hours
Shop 8/2 Sentry Drive, Stanhope Gardens, APACX 2768
Every day
11:00 am - 05:00 pm
Delivery • Pickup
Opens at 11:00 AM
Picked for you

Crumbed drumstick with chips and 375mL coke.

Marinated Drumette

Crumbed Chicken

Chicken Schnitzel

Breast steak or thigh fillet, breadcrumbed and deep fry cooked.

Breast steak or thigh fillet, breadcrumbed and deep fry cooked.

BBQ Chicken

Peri Peri Chicken

Peking Sauce Chicken

Chicken Stick

Rice and Noodle

Chicken Stir Fry

Chicken Sausage

Spring Roll and Dim Sim

Chipees and Croquettes

Potato Scallops and Wedges

Meal

Quarter chicken with chips and 375mL coke.

Quarter Portuguese chicken with chips and 375mL coke.

Crumbed drumstick with chips and 375mL coke.

Large breast schnitzel with chips and 375mL coke.

Sauces

Beverages
Frequently asked questions
Can I order Lily Chicken delivery in Sydney with Uber Eats?
Yes. Lily Chicken delivery is available on Uber Eats in Sydney.
Is Lily Chicken delivery available near me?
Lily Chicken delivery might not be available everywhere in Sydney, so enter your address to see if it's available near you.
How do I order Lily Chicken delivery online in Sydney?
There are 2 ways to place an order on Uber Eats: on the app or online using the Uber Eats website. After you've looked over the Lily Chicken menu, simply choose the items you'd like to order and add them to your cart. Next, you'll be able to review, place, and track your order.
What's the best thing to order for Lily Chicken delivery in Sydney?
What's best at Lily Chicken is totally up to you and your personal preference. If you're in need of some inspiration, consider trying one of the items featured in "Picked for you."
How do I get free Lily Chicken delivery in Sydney?
The Delivery Fees may vary depending on a number of factors, like your location. Enter your Sydney address to see the current Delivery Fee. You can also explore the Uber Eats membership and subscription options available in your area to see if you can save money on Lily Chicken delivery with $0 Delivery Fee on select orders.