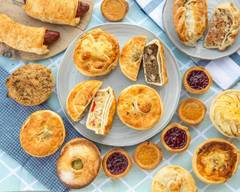 Location and hours
119 Burnley St, Richmond, VIC 3121
Sunday
Closed
Monday - Friday
05:00 am - 02:00 pm
Saturday
06:00 am - 12:30 pm
Keith's Pies
4.9 (131 ratings) • Fast food • $
  •  
More info
119 Burnley St, Richmond, VIC 3121
Tap for hours, info and more
Enter your address above to see fees and delivery + pick-up estimates.
This place is among Uber Eats users' 10 favourite Richmond delivery spots. Of the 50 things on the menu at this morning go-to, the Pie & Sausage Roll Combo Meal is one of the most popular and the Sausage and the Scrambled Egg And Bacon Toastie are two of the items most commonly ordered together. • $ •
Fast food
 • 
Bakery
 • 
Pastry
Picked for you

Chunky Steak and Cracked Pepper

Pie & Sausage Roll Combo Meal

Party Fare

12 Pack of Party Pies and Sausage Rolls

Combos

Pie & Sausage Roll Combo Meal

Pies

plain mince steak with chopped rasher bacon and tasty cheese.

Steak, Tomato, Cheese and Onion

plain mince steak topped with onion, slice of tomato and tasty cheese

Mince steak cooked with chopped lamb kidneys and onion.

plain mince steak cooked in its own pot with onions and curry

plain steak topped with bacon, cheese, and quiche mix

Our steak pie topped with fresh chopped onions

Chunky Pies

Chunky Steak and Mushroom

Chunky Steak and Cracked Pepper

Pasties

Vegetarian Pastie

Rolls

Jalapeno Chilli Sausage Roll

Cheese kransky wrapped in our gorgeous puff pastry.

Spinach and Cheese

spinach and cheese sauce encased in puff pastry

Toasties

Scrambled Egg and Bacon Toastie

Perfectly toasted on white sourdough with two rashers of bacon and two scrambled eggs.

Free range ham with tasty cheese perfectly toasted on sourdough white bread.

Swiss & Tasty Cheese around sliced tomato ( if you would like salt & pepper add in the notes )

salami tomato slices and swiss cheese on sourdough

Doughnuts

12 pack of mixed doughnuts

6 pack of mixed doughnuts

Sauce

500ml bottle of tomatoe sauce

Sweets

chocolate chunks in a awesome cookie

Apple encased in our flakey puff pastry

Drinks

Mount Franklin 600mL Water

Barista Bros 500mL Variety
Frequently asked questions
Can I order Keith's Pies delivery in Melbourne with Uber Eats?
Yes. Keith's Pies delivery is available on Uber Eats in Melbourne.
Is Keith's Pies delivery available near me?
Keith's Pies delivery might not be available everywhere in Melbourne, so enter your address to see if it's available near you.
How do I order Keith's Pies delivery online in Melbourne?
There are 2 ways to place an order on Uber Eats: on the app or online using the Uber Eats website. After you've looked over the Keith's Pies menu, simply choose the items you'd like to order and add them to your cart. Next, you'll be able to review, place, and track your order.
What's the best thing to order for Keith's Pies delivery in Melbourne?
What's best at Keith's Pies is totally up to you and your personal preference. If you're in need of some inspiration, consider trying one of the items featured in "Picked for you."
How do I get free Keith's Pies delivery in Melbourne?
The Delivery Fees may vary depending on a number of factors, like your location. Enter your Melbourne address to see the current Delivery Fee. You can also explore the Uber Eats membership and subscription options available in your area to see if you can save money on Keith's Pies delivery with $0 Delivery Fee on select orders.