Gellafrenda Menu and Takeaway in Sydney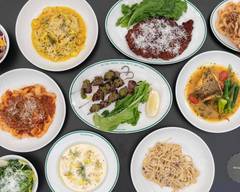 Location and hours
Shop 6/148 Station St, Penrith, NSW 2750
Sunday
12:00 pm - 08:30 pm
Monday - Tuesday
Closed
Wednesday - Thursday
05:00 pm - 08:30 pm
Friday
12:00 pm - 09:30 pm
Saturday
12:00 pm - 09:00 pm
Picked for you

Arancini

Tiramisu

Sharing Plates

Stracciatella, Dill and Pickled Carrot

Heirloom Tomatoes, Basil and Olive Oil

Calamari Frutti, Black Garlic and Saffron Aioli

Kingfish Carpaccio, Ruby Grapefruit and Pickled Fennel

Burrata Cheese

Whipped Ricotta

Arancini

Pizza

Burrata, Rocket & Prosciutto

Amanti Della Carne ( Meat Lovers )

Charred Brocolini Pizza

Pizza pasta combo
2 Pizzas, 1 pasta, 1 focaccia with whipped garlic butter

Garlic & Cheese Pizza

Garlic, Fiori di latte, parmigiano & Wild oregano

Tomato, buffalo mozzarella and basil.

Pasta

Spaghetti Carbonara Pasta

Bucatini Pasta

Mains

Pizza pasta combo
2 Pizzas, 1 pasta, 1 focaccia with whipped garlic butter

300g Onion Soubise, Rosemary & Lemon

Sides

Rocket, Pear and Parmesan Salad

Charred Broccolini, Salsa Rossa and Walnuts

Shoestring Fries, Feta and Parmigiano

Oven Roasted Pumpkin

Desserts

Tiramisu

Pannacotta

0.5 L Ciccone & Sons Gelato
Frequently asked questions
Can I order Gellafrenda takeaway in Sydney with Uber Eats?
Yes. Gellafrenda takeaway is available on Uber Eats in Sydney.
Is Gellafrenda delivery available near me?
Gellafrenda delivery might not be available everywhere in Sydney, so enter your address to see if it's available near you.
How do I order Gellafrenda takeaway online in Sydney?
There are 2 ways to place an order on Uber Eats: on the app or online using the Uber Eats website. After you've looked over the Gellafrenda menu, simply choose the items you'd like to order and add them to your cart. Next, you'll be able to review, place and track your order.
What's the best thing to order for Gellafrenda takeaway in Sydney?
What's best at Gellafrenda is totally up to you and your personal preference. If you're in need of some inspiration, consider trying one of the items featured in "Picked for you".
How do I get $0 Delivery Fee at Gellafrenda in Sydney?
The Delivery Fees may vary depending on a number of factors, like your location. Enter your Sydney address to see the current Delivery Fee. You can also explore the Uber Eats membership and subscription options available in your area to see if you can save money on Gellafrenda delivery with $0 Delivery Fee on select orders.