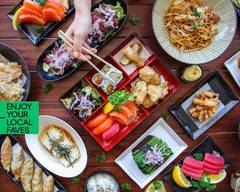 Location and hours
38 Laycock St, QLD, Surfers Paradise, Queensland 4217
Sunday
11:00 am - 3:00 pm
Menu
5:00 pm - 8:45 pm
Menu
Monday
5:00 pm - 9:00 pm
Menu
Tuesday - Thursday
11:00 am - 3:00 pm
Menu
5:00 pm - 8:45 pm
Menu
Friday - Saturday
11:00 am - 3:00 pm
Menu
5:00 pm - 9:00 pm
Menu
Fuji Sushi
4.7 (99 ratings) • Japanese • $$
  •  
More info
38 Laycock St, QLD, Surfers Paradise, Queensland 4217
Tap for hours, info and more
Enter your address above to see fees and delivery + pick-up estimates.
This place is among the 10 Surfers Paradise spots users order from most. If you like to do as the locals do, consider ordering from Fuji Sushi, because it's particularly popular among Gold Coast locals. • $$ •
Japanese
 • 
Sushi
 • 
Japanese-style curry
Picked for you

Chicken Katsu Avocado Roll

Salad

Fried Chicken

Entrees

Sashimi

Sushi

Fuji Sushi and Sashimi Combo

A La Carte

Chicken Teriyaki and Rice

Sizzling Chilli Pork and Rice

Stir Fried Noodles

Udon Noodle Soup

Fuji Rolls

Teriyaki Chicken Avocado Roll

Chicken Katsu Avocado Roll

Veggie Tempura Avocado Roll

Slice Cheese Chicken Katsu Roll

Slice Cheese Teriyaki Chicken Roll

Japanese Curry

Beverages

Apple flavoured sparkling.
Frequently asked questions
Can I order Fuji Sushi delivery in Gold Coast with Uber Eats?
Yes. Fuji Sushi delivery is available on Uber Eats in Gold Coast.
Is Fuji Sushi delivery available near me?
Fuji Sushi delivery might not be available everywhere in Gold Coast, so enter your address to see if it's available near you.
How do I order Fuji Sushi delivery online in Gold Coast?
There are 2 ways to place an order on Uber Eats: on the app or online using the Uber Eats website. After you've looked over the Fuji Sushi menu, simply choose the items you'd like to order and add them to your cart. Next, you'll be able to review, place, and track your order.
What's the best thing to order for Fuji Sushi delivery in Gold Coast?
What's best at Fuji Sushi is totally up to you and your personal preference. If you're in need of some inspiration, consider trying one of the items featured in "Picked for you."
How do I get free Fuji Sushi delivery in Gold Coast?
The Delivery Fees may vary depending on a number of factors, like your location. Enter your Gold Coast address to see the current Delivery Fee. You can also explore the Uber Eats membership and subscription options available in your area to see if you can save money on Fuji Sushi delivery with $0 Delivery Fee on select orders.