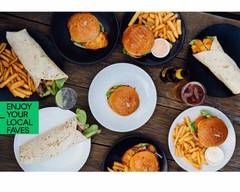 Location and hours
502 Hampton St, Hampton Vic 3188
Sunday - Thursday
11:00 am - 09:00 pm
Friday - Saturday
11:00 am - 10:00 pm
Flipping Awesome
4.8 (182 ratings) • Burgers • $
  •  
More info
502 Hampton St, Hampton Vic 3188
Tap for hours, info and more
Enter your address above to see fees and delivery + pick-up estimates.
Picked for you

Meal Combos

Beef

Two beef patties, Two slices of cheese, Two pieces of bacon, Lettuce, Tomato, Onion, Tomato relish, Special sauce

Chicken

Bacon, Chicken Schnitzel, Lettuce, Tomato, Onion, Tomato Relish, Special Sauce

Salads

Mediterranean Salad With Chicken Schnitzel

Veggie

Beyond Cheeseburger

Beyond Beleaf

Veggie Schnitzel, Cheese, Lettuce, Tomato, Onion, Avocado, Sweet Chilli Mayo, Tomato Relish

Flipping Veggie Parmi (NEW)

Veggie Schnitzel, Lettuce, Tomato, Onion, Vegan cheese, Garlic Aioli, Napoli

Kids Menu

Mini Schnitzel, Peckish Chips.

Mini Parmi, Peckish Chips.

Open Plates

Chicken schnitzel topped with crispy bacon, napoli sauce and stretchy mozzarella cheese

Chicken schnitzel and Peckish size chips

Sliders

Sides

Sweet Potato Chips Peckish

Loaded Cheeseburger Fries

Sweet Potato Chips Starving

Loaded Vegan Fries

Potato Chips, Vegan Mayo, Napoli, Vegan Shredded Cheese.

Thickshakes

Milkshakes

Beverages

Coca-Cola 600ml Varieties

Mount Franklin Still 600ml

Mount Franklin Lightly Sparkling 450ml

Fuze Iced Tea 500ml Varieties

Keri Juice 300ml Varieties

Coca-Cola 375ml Varieties

Kombucha Raspberry Lemonade
Frequently asked questions
Can I order Flipping Awesome delivery in Melbourne with Uber Eats?
Yes. Flipping Awesome delivery is available on Uber Eats in Melbourne.
Is Flipping Awesome delivery available near me?
Flipping Awesome delivery might not be available everywhere in Melbourne, so enter your address to see if it's available near you.
How do I order Flipping Awesome delivery online in Melbourne?
There are 2 ways to place an order on Uber Eats: on the app or online using the Uber Eats website. After you've looked over the Flipping Awesome menu, simply choose the items you'd like to order and add them to your cart. Next, you'll be able to review, place, and track your order.
What's the best thing to order for Flipping Awesome delivery in Melbourne?
What's best at Flipping Awesome is totally up to you and your personal preference. If you're in need of some inspiration, consider trying one of the items featured in "Picked for you."
How do I get free Flipping Awesome delivery in Melbourne?
The Delivery Fees may vary depending on a number of factors, like your location. Enter your Melbourne address to see the current Delivery Fee. You can also explore the Uber Eats membership and subscription options available in your area to see if you can save money on Flipping Awesome delivery with $0 Delivery Fee on select orders.