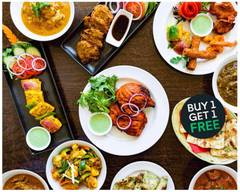 Location and hours
56 Scarborough St, Southport QLD 4215
Every day
11:00 am - 9:30 pm
Chiluka's Indian Bistro
4.3 (83 ratings) • Indian • $
  •  
More info
56 Scarborough St, Southport QLD 4215
Tap for hours, info and more
Enter your address above to see fees and delivery + pick-up estimates.
This place is one of Uber Eats users' 10 favourite delivery spots in Southport. Want to taste one of the most popular items on the menu at this evening go-to? Order the Butter Chicken, or try the the Butter Chicken and the Steamed Rice, which are two of the items most commonly ordered together. • $ •
Indian
 • 
Indian curry
 • 
Dosa
 • 
Family Meals
Picked for you

Mains

The grilled Tandoori Chicken Tikka Wraps have chunks of tender baked chicken tikkas, with veggies and a cilantro-mint chutney

Choice of a curry in Chicken curry or Butter Chicken or Mix veg korma comes with rice and small salad. Served in nice large eco takeaway box.

Starters

Spicy Pepper Fried Chicken

Vada Pav is Mumbai's most popular street food! Spicy potato filling is sandwiched between bread buns(pav) and layered with a spicy garlic chutney! 1pc.

Dosas

Cheese and Chilli Herb Dosa

Egg Cheese Chilli Herb Dosa

Masala Dosa

Egg Cheese Onion Masala Dosa

Rice

Egg Pulao is a delicious rice dish preparation of fried boiled eggs cooked with rice and aromatic spices.

Biryanis

Family Pack Chicken Biryani

Family Pack Prawn Biryani

Family Pack Paneer Biryani

Jumbo Pack Chicken Biryani

From Tandoor

Tandoori Chicken Half (D)

Diary

Tandoori Chicken Full (D)

Diary

Tandoori Whole Golden Pomfret (D)

Diary

For Kids

Vegetarian Curries

Coconut and Peanut Aubergine Curry

Chicken Curries

Andhra-style chicken curry with Nellore chilli.

Mango Chicken

This mango chicken is a combination of seared chicken tikka, bell peppers and fresh mango, pulp all tossed in a sweet and savory sauce.

Lamb Curries

Goat Curries

Fish Curries

Prawns Curries

Naan Breads

Desserts

Qubani ka Meetha with Vanilla Ice-Cream

Drinks

Ginger Infused Cardamom Tea
Frequently asked questions
Can I order Chiluka's Indian Bistro delivery in Gold Coast with Uber Eats?
Yes. Chiluka's Indian Bistro delivery is available on Uber Eats in Gold Coast.
Is Chiluka's Indian Bistro delivery available near me?
Chiluka's Indian Bistro delivery might not be available everywhere in Gold Coast, so enter your address to see if it's available near you.
How do I order Chiluka's Indian Bistro delivery online in Gold Coast?
There are 2 ways to place an order on Uber Eats: on the app or online using the Uber Eats website. After you've looked over the Chiluka's Indian Bistro menu, simply choose the items you'd like to order and add them to your cart. Next, you'll be able to review, place, and track your order.
What's the best thing to order for Chiluka's Indian Bistro delivery in Gold Coast?
What's best at Chiluka's Indian Bistro is totally up to you and your personal preference. If you're in need of some inspiration, consider trying one of the items featured in "Picked for you."
How do I get free Chiluka's Indian Bistro delivery in Gold Coast?
The Delivery Fees may vary depending on a number of factors, like your location. Enter your Gold Coast address to see the current Delivery Fee. You can also explore the Uber Eats membership and subscription options available in your area to see if you can save money on Chiluka's Indian Bistro delivery with $0 Delivery Fee on select orders.