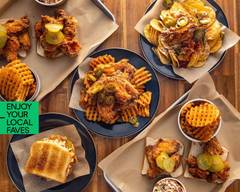 Location and hours
254 Grange Rd, Flinders Park SA 5025
Sunday - Tuesday
Closed
Wednesday - Thursday
11:00 am - 3:00 pm
Menu
5:00 pm - 8:00 pm
Menu
Friday - Saturday
11:00 am - 9:00 pm
Menu
Buk Buk
4.7 (125 ratings) • Wings • $
  •  
More info
$1.49 Delivery Fee + Service Fee
Tap for hours, info and more
Delivery
15–30 min • $1.49
Save on Select Items

Picked for you

New Items

la croux Pamplemousee Sparkling Water

Beef Patty, Cheese, Pickles, Onions, Sauce & Mustard

Pulled Pork, Onion Rings, Jalapenos, Slaw & BBQ

Operation C.B. Burger, Fries & Soda

Jurassic Pork Burger, Fries & Can Soda

Grave Digger Burger, Fries & Can Soda

Scratchings

Florets of Southern Fried Cauliflower with our housemade sweet & sour sauce

Mains

Burgers

Beef Patty, Cheese, Pickles, Onions, Sauce & Mustard

Pulled Pork, Onion Rings, Jalapenos, Slaw & BBQ

Operation C.B. Burger, Fries & Soda

Jurassic Pork Burger, Fries & Can Soda

Grave Digger Burger, Fries & Can Soda

Sandos

Notorious B.U.K. ...DOUBLE Combo

Loaded Fries

Buk Buk Combos

Notorious B.U.K. ...DOUBLE Combo

Chickoletta Sando, Chips (Waffle Fries NA) & Can Soda

4 Tenders, 6 Boneless, 6 Wings, Chips , Mac'N'Cheese, 2 Fruit Boxes & 2 Choice of Cans

Shakes

Espresso Coffee, Fleurieu Milk, Ice, Vanilla Gelato

Chocolate Gelato, Nutella & Fleurieu Milk
**Contains Nuts **

Strawberry Sorbet, Strawberry Syrup & Fleurieu Milk

Cookies & Cream Gelato, Oreo Crumble & Fleurieu Milk

Caramilk Gelato, Caramel Syrup & Fleurieu Milk

Chocolate Gelato, Dark Chocolate Syrup & Fleurieu Milk


Peanut Butter, Burnt Caramel Ecco Gelato, Fleurieu Milk
**CONTAINS NUTS

Salted Caramel & Tim Tam Shake

Caramel & Tim Tam Eco Gelato, Caramel Syrup & Fleurieu Milk

Strawberry Gelato, Choc Gelato, Crumbled Cherry Ripe & Fleurieu Milk

Chocolate Gelato, Chocolate Syrup, Oreo, Tim Tam, Fleurieu Milk & Caramilk crumble

Peanut Butter & Jelly Shake

Peanut Butter Gelato, Smooth Peanut Butter, Strawberry Jam & Fleurieu Milk

Sides

Extras

Sauces

Korean Sweet Chilli Sauce

Locally Made Gelato

Cans & Softdrinks

Kids Character Popper Drink

Coffee

Espresso Coffee, Fleurieu Milk, Ice, Vanilla Gelato
Frequently asked questions
Can I order Buk Buk delivery in Adelaide with Uber Eats?
Yes. Buk Buk delivery is available on Uber Eats in Adelaide.
Is Buk Buk delivery available near me?
Buk Buk delivery might not be available everywhere in Adelaide, so enter your address to see if it's available near you.
How do I order Buk Buk delivery online in Adelaide?
There are 2 ways to place an order on Uber Eats: on the app or online using the Uber Eats website. After you've looked over the Buk Buk menu, simply choose the items you'd like to order and add them to your cart. Next, you'll be able to review, place, and track your order.
What's the best thing to order for Buk Buk delivery in Adelaide?
What's best at Buk Buk is totally up to you and your personal preference. If you're in need of some inspiration, consider trying one of the items featured in "Picked for you."
How do I get free Buk Buk delivery in Adelaide?
The Delivery Fees may vary depending on a number of factors, like your location. Enter your Adelaide address to see the current Delivery Fee. You can also explore the Uber Eats membership and subscription options available in your area to see if you can save money on Buk Buk delivery with $0 Delivery Fee on select orders.