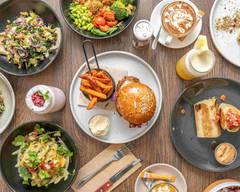 Location and hours
32 Pin Oak Cres, Flemington, VIC 3031
Sunday
07:00 am - 02:30 pm
Main Menu - Autumn Leaves
02:30 pm - 03:45 pm
Afternoon Treats Menu - AL
Monday
06:00 am - 02:30 pm
Main Menu - Autumn Leaves
02:30 pm - 03:15 pm
Afternoon Treats Menu - AL
Tuesday - Friday
06:00 am - 02:30 pm
Main Menu - Autumn Leaves
02:30 pm - 03:45 pm
Afternoon Treats Menu - AL
Saturday
07:00 am - 02:30 pm
Main Menu - Autumn Leaves
02:30 pm - 03:45 pm
Afternoon Treats Menu - AL
Autumn Leaves
4.8 (305 ratings) • Breakfast and brunch • $$
  •  
More info
32 Pin Oak Cres, Flemington, VIC 3031
Tap for hours, address and more
Enter your address above to see fees and delivery + pick-up estimates.
This place is one of Uber Eats users' 10 favourite delivery spots in Kensington. If you're a fan of latte takeaway like the rest of your city, you'll be happy to know it's offered at Autumn Leaves. Autumn Leaves is also popular among Melbourne locals, so consider ordering from here if you like to do as the locals do. • $$ •
Breakfast and brunch
 • 
Healthy
 • 
Cafe
Picked for you

Butch Sausage & Egg Burger (GFO)

Coffee

Hot Chocolate

Iced Chocolate (Oscar + Felix)

L.A to Mexicano

Tofu Burrito (VG)

All Day Menu

Butch Sausage & Egg Burger (GFO)

Mexicali Burrito Bowl (VG) (GF)

The Angeleno (V) (GFO)

The Californian (vegan)

Joan's Toastie (VG)

served with chipotle mayo

Toasties & Breakfast Rolls

Fried Eggplant Parma Baguette

Chicken & Avocado Baguette

Ham, Cheese & Pickle Baguette

Pastries

HOUSE MADE CHOC CHIP COOKIE

Juices, Smoothies & Milkshakes

Kids

Smashed Avo & Poached Egg

Strawberries & Cream Smoothie

Strawberries, ice-cream, banana syrup, milk of choice topped with 100s & 1000s

Quick Bites

Cold Drinks

Something extra...
Frequently asked questions
Can I order Autumn Leaves delivery in Melbourne with Uber Eats?
Yes. Autumn Leaves delivery is available on Uber Eats in Melbourne.
Is Autumn Leaves delivery available near me?
Autumn Leaves delivery might not be available everywhere in Melbourne, so enter your address to see if it's available near you.
How do I order Autumn Leaves delivery online in Melbourne?
There are 2 ways to place an order on Uber Eats: on the app or online using the Uber Eats website. After you've looked over the Autumn Leaves menu, simply choose the items you'd like to order and add them to your cart. Next, you'll be able to review, place, and track your order.
What's the best thing to order for Autumn Leaves delivery in Melbourne?
What's best at Autumn Leaves is totally up to you and your personal preference. If you're in need of some inspiration, consider trying one of the items featured in "Picked for you."
How do I get free Autumn Leaves delivery in Melbourne?
The Delivery Fees may vary depending on a number of factors, like your location. Enter your Melbourne address to see the current Delivery Fee. You can also explore the Uber Eats membership and subscription options available in your area to see if you can save money on Autumn Leaves delivery with $0 Delivery Fee on select orders.