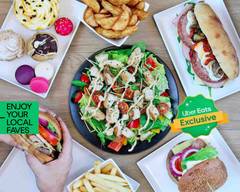 Location and hours
277 Great Eastern Hwy, Burswood WA 6100
Every day
12:00 am - 11:59 pm
Anytime Deli
4.8 (500+ ratings) • Burgers • $
  •  
More info
277 Great Eastern Hwy, Burswood WA 6100
Tap for hours, info and more
Enter your address above to see fees and delivery + pick-up estimates.
This spot is not just one of the most popular places for delivery in Perth, it's one of the 3 Dessert delivery spots in the city with the most orders. Anytime Deli is also particularly popular among Perth locals, so if you try to do as the locals do, consider ordering from here. • $ •
Burgers
 • 
Modern Australian
 • 
Desserts
 • 
Sandwich
 • 
Fast food
 • 
Family Meals
 • 
Exclusive to Eats
Picked for you

Meals

Burgers, Hotdog, Souvlaki

Double Beef and Cheese Burger

Foccacia, Burritos and Wraps

Chicken and Mushroom Wrap

Spinach and Herb Vegan Burrito

Brown rice, beans, tomato, Mexican spices & cheddar cheese rolled in a soft white pita bread. Served toasted

Hot Food and Pizza

Seafood Basket with Chips

Mediterranean Chicken Quiche

Vegan Moroccan Chickpea Curry

Vegan

Vegan Moroccan Chickpea Curry

Spinach and Herb Vegan Burrito

Toasted Sandwiches

Bacon and Egg Toasted Sandwich

Chicken and Cheese Toasted Sandwich

Ham and Cheese Toasted Sandwich

Ham, Cheese, and Tomato Toasted Sandwich

Cheese and Tomato Toasted Sandwich

Sides

Sweet Chilli Chicken Strip

Crumbed, Beef and Cheese Sausage

Crumbed Chicken, Cheese and Bacon Sausage

Chicken, Broccoli and Cheese Duet

Salads

Chicken and Sun-dried Tomato Pasta Salad

Chicken Cajun Pasta Salad

Vegetarian Thai Noodle Salad

Dessert

Apple Crumble with Custard

Sticky Date Pudding With Custard

Chocolate Cake with Custard

Orange and Almond Cake (GF)

Continental Vanilla Slice

Couch Food

Connoisseur Ice Cream Tub 1L

Kit Kat Chocolate Block 170g

Cadbury Curly Wurly Squirlies Bag 110g

Maltesers Milk Chocolate Bag 140g

M&M's Chocolate Bags 180g

Mars Pods Chocolate Bag 160g

Snickers Pods Chocolate Bags 160g

Twix Pods Chocolate Bag 160g

Allen's Confectionery Bags

The Natural Confectionery Co. Lolly Bags

TNCC Soft Jelly Fruit Salad 220g

Oreo Original Cookies 137g

Arnott's Original Chocolate Tim Tam 200g

Arnott's Double Coated Tim Tam 200g

Classic Fudge M/River 40g

Red Rock Deli Potato Chips 165g

Pringles Potato Chips 53g

Pringles Potato Chips 134g

Smith's Crinkle Cut Potato Chips 170g

Rice Crackers Franko 225g

Nobby's Pork Crackle Original 25g

Chupa Chups Best of Mini's Tub 50's

Golden Popcorn Coloured 100g

Grain Waves Sour Cream & Chives 170g

Grain Waves Sweet Chilli 170g

Grain Waves Caramelised Onion & Balsamic 170g

Fairy Floss Blueberry 15g

Fairy Floss Strawberry 15g

Raspberry Liquorice Wheel 1 metre

Cold Drinks

Harvey Fresh Orange Juice 100% 450ml

Barista Bros Double Espresso Iced Coffee 700ml

Mount Franklin Lightly Sparkling Water 450ml

Mount Franklin Lightly Sparkling Water 1.25L

Hot Drinks

Cappuccino~Flat White~Latte~Espresso

Frequently asked questions
Can I order Anytime Deli delivery in Perth with Uber Eats?
Yes. Anytime Deli delivery is available on Uber Eats in Perth.
Is Anytime Deli delivery available near me?
Anytime Deli delivery might not be available everywhere in Perth, so enter your address to see if it's available near you.
How do I order Anytime Deli delivery online in Perth?
There are 2 ways to place an order on Uber Eats: on the app or online using the Uber Eats website. After you've looked over the Anytime Deli menu, simply choose the items you'd like to order and add them to your cart. Next, you'll be able to review, place, and track your order.
What's the best thing to order for Anytime Deli delivery in Perth?
What's best at Anytime Deli is totally up to you and your personal preference. If you're in need of some inspiration, consider trying one of the items featured in "Picked for you."
How do I get free Anytime Deli delivery in Perth?
The Delivery Fees may vary depending on a number of factors, like your location. Enter your Perth address to see the current Delivery Fee. You can also explore the Uber Eats membership and subscription options available in your area to see if you can save money on Anytime Deli delivery with $0 Delivery Fee on select orders.