8848 Momo House Menu and Takeaway in Gold Coast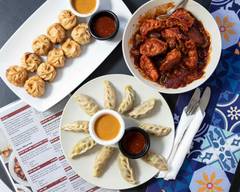 Location and hours
42 Cavill Avenue Shop 2, Surfers Paradise, APACX 4217
Sunday
12:00 pm - 11:00 pm
Monday - Thursday
12:00 pm - 10:30 pm
Friday - Saturday
12:00 pm - 11:00 pm
8848 Momo House
4.0 (30 ratings) • Nepalese • $$
  •  
More info
42 Cavill Avenue Shop 2, Surfers Paradise, APACX 4217
Tap for hours, info and more
Enter your address above to see fees and delivery + pick-up estimates.
Picked for you

Appetisers

Batmas Sadeko Chaat Salad

From the Streets of Kathmandu

K Man Doo Wings with a Zzzing

Eight pieces. Wings marinated with original herbs and spiecs, grilled and destined to run you for other wings, anywhere. served with chutney.

Golden, crunchy fries topped with five momos of your

Golden, Crunchy fries topped with five momos of your choice, cheese, momo sauce and chilli sauce. Completely droolworthy definitely satisfying.

8848's Famous Momos

Momo Platters

King of Happy Times Platter

Street Nibbles and Sides

Four beans. Diced cucumber, tomato, radish, carrot, beetroot and mixed beans.

Fried soybean mixture, is the best accompaniment to cold beer.

Signature Dishes

Momo Carbonara A La Nepalese

8848 Combo Pinnacle Platter

Chutneys and sauce

The quintessential accompainment to momos. A smooth tomato sesame and soya bean sauce tempered with Nepali spices.

8848 Tangy Tomato Chutney

A mildy spiced and tangy tomato base chutney with garlic, ginger and onion infused flavour that simply explodes .

8848 Chilli Garlic chutney

Red chilli paste with garlic, Himalaya salt and herbs.

8848 Himalaya Mint chutney

Amalgamation of mint, coriander, chillies with a sweet spicy sour balanced that goes well with grilled meats.

Champion Kids menu

Butter Chicken, Rice and Salad

Egg Roll Wrap with Chicken

8848 House Desserts

Beverages
Frequently asked questions
Can I order 8848 Momo House takeaway in Gold Coast with Uber Eats?
Yes. 8848 Momo House takeaway is available on Uber Eats in Gold Coast.
Is 8848 Momo House delivery available near me?
8848 Momo House delivery might not be available everywhere in Gold Coast, so enter your address to see if it's available near you.
How do I order 8848 Momo House takeaway online in Gold Coast?
There are 2 ways to place an order on Uber Eats: on the app or online using the Uber Eats website. After you've looked over the 8848 Momo House menu, simply choose the items you'd like to order and add them to your cart. Next, you'll be able to review, place and track your order.
What's the best thing to order for 8848 Momo House takeaway in Gold Coast?
What's best at 8848 Momo House is totally up to you and your personal preference. If you're in need of some inspiration, consider trying one of the items featured in "Picked for you".
How do I get $0 Delivery Fee at 8848 Momo House in Gold Coast?
The Delivery Fees may vary depending on a number of factors, like your location. Enter your Gold Coast address to see the current Delivery Fee. You can also explore the Uber Eats membership and subscription options available in your area to see if you can save money on 8848 Momo House delivery with $0 Delivery Fee on select orders.