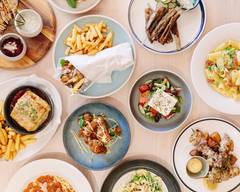 FOS kitchen and bar
$$ • Greek • Pasta • European • Kid-friendly • Mediterranean • Italian • Fish and chips • Healthy
4.4
(58)
  •  
View delivery time and booking fee.
Location and hours
4 Howard Pl, Bendigo Vic 3550, Australia, Unit 2,
Sunday - Monday
Tuesday - Saturday
05:00 pm - 08:30 pm
4 Howard Pl, Bendigo Vic 3550, Australia, Unit 2,  • More info
---
Mezze

Dips/ Pita

Includes two dips, tzaki, roasted beetroot and stone milled pitta --good starter--.

Garlic Bread

Home made at FOS kitchen with roasted garlic and parsley. Soft as.

Calamari Salad Box

Mediterranean marinade secret, lightly fried on a bed of sld and ouzo aioli.

Lamb Ribs

Braised lamb ribs that just fall off the bone, served with tazki, pickled cucumbers and lemon dressing.

Sliders

Includes two Chicken gyro with FOS coleslaw & lime mayo.

Arancini Balls

Pumpkin and rosemary with mizthra cheese and lime/mayo.

Chicken Drumette

Six pieces of marinated chicken.

Pasta

Penne (Carbonara)

A true classic with bacon, garlic, spring onions, cream. What more could you ask for.

Orecchiette

Pasta like you have never seen, chicken breast, bacon, pouring cream, spring onions and a hint of garlic. Orecchiette (like small small ears) - fantastic.

Souvlaki

Vegetarian Souvlaki

Falafel, cos lettuce, tomato, tzatziki, chips.

Seafood Souvlaki

Calamari, taramasalata, cos lettuce, tomato. Chips.

Pork Souvlaki

Tomato, cos lettuce, tzatziki, chips, red onion.

Chicken

Tomato, cos lettuce, chips, red onion, roasted capsicum sauce, chicken from the gyro, wrap in stone milled pitta.

Main

Dinner Box

Includes: gyro chicken, gyro pork, pitta, salad, chips with tzaki - like open one!!

Chicken Skewers

Includes: char-grilled chicken skewers with light fried chat potatoes and tzaki. (3 pieces).

Beef Ribs & Chat Potato, Onion Jam

6-hour braised beef rib served with chat potatos, rich onion jam and a touch of beef jus.

Fish & Chips/Salad

Lightly battered Flathead tails, with a mixed cos sld and chips.

Moussaka & Chips

Home made to the yia yia recipe and two days to make: sweet meat sauce and creamy bechamel, with fried potatoes, eggplant and zucchini. Just a Greek classic.

Sides

Greek Salad

Classic greek salad vine ripened tomatoes, cucumber, sliced red onion, capsicum, olives, creten feta with a dash of greek olive and dash red vine vinegar. (gf)

Sweet Potato Salad

Roasted sweet potato, with pear chutney,s moke yogurt, pistachio nuts and a touch of lemon dressing.

Ancient Grain Salad

Black, white and red quinoa, red onion, parsley, currents, pomegranate with honry yoghurt (gf).

Kids

Chicken Gyro & Chips

Gyro chicken and chips with tomato sauce.

Calamari & Chips

Lightly fried and served with chips.

Meatballs Cream Cheese Penne Pasta

Kids love creamy cheese pasta - done with penne pasta - not too rich just nice.