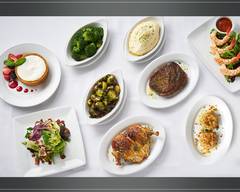 Ruth's Chris Steak House (620 Chastain Road Northwest)
$$ • Steak • American • Salads • Seafood
4.1
(52)
  •  
View delivery time and booking fee.
Location and hours
620 Chastain Road Northwest The Embassy , Suite Kennesaw Town Center, Kennesaw, GA 30144
Sunday - Thursday
04:00 PM - 09:00 PM
Friday - Saturday
04:00 PM - 10:00 PM
620 Chastain Road Northwest The Embassy , Suite Kennesaw Town Center, Kennesaw, GA 30144 • More info
---
Appetizers

Barbecued Shrimp

large shrimp sauteed in reduced white wine, butter, garlic, and spices.

Mushrooms Stuffed with Crab Meat

Broiled and topped with Romano cheese.

Salads

Caesar Salad

Fresh romaine hearts, romano cheese, creamy Caesar dressing, shaved parmesan, and fresh ground black pepper.

Lettuce Wedge

Crisp iceberg, field greens, bacon, blue cheese, and choice of dressing.

Steak House Salad

Iceberg, baby arugula, baby lettuces, grape tomatoes, garlic croutons, and red onions.

Signature Steaks and Chops

New York Strip

USDA Prime. Full-bodied 16 oz cut, slightly firmer than a ribeye.

T-Bone

Full-flavored. 24 oz, USDA Prime Cut.

Ribeye

USDA Prime. 16 oz cut. Well marbled for peak flavor, and deliciously juicy.

Cowboy Ribeye

Bone in 22 oz USDA prime cut.

Pork Chop

Center cut chop, fine-grained & falvorful. Served with sliced cinnamon apples.

Tournedos and Shrimp

Two (4 oz) medallions of filet served with cajun dusted large shrimp.

Filet

Tender corn-fed midwestern beef 11 oz cut.

Lamb Chops

Three extra thick chops, marinated overnight with fresh mint.

Porterhouse for Two

40 oz USDA Prime cut. Combining the rich flavor of a strip and the tenderness of a filet.

Specialty Cuts

Bone in Filet

An incredibly tender 16 oz bone-in cut at the peak of flavor.

Bone in New York Strip

USDA prime, full-bodied 19 oz bone-in cut.

Entree Complements

Shrimp

Add 6 additional large shrimp to any entree.

Blue Cheese Crust

Add blue cheese, roasted garlic, and a touch of panko bread crumbs to any steak.

Seafood and Specialties

Salmon Fillet

Broiled with lemon, butter, and parsley.

Chilean Sea Bass

Pan roasted sea bass with citrus-coconut butter and sweet potato & pineapple hash.

Stuffed Chicken Breast

Oven roasted free-range double chicken breast stuffed with garlic herb cheese and topped with lemon-butter.

Potatoes and Signature Sides

Au Gratin

Sliced Idaho potatoes with a three cheese sauce.

Lyonnaise Fingerling Potatoes

Caramelized onions, fresh thyme, and garlic butter.

Lobster Mac and Cheese

Tender lobster, three cheese blend, and mild green chiles.

Vegetables

Desserts

Cheesecake

Creamy homemade cheesecake with fresh berries.

Bread Pudding with Whiskey Sauce

Our definitive version of a traditional New Orleans favorite.

Sandwiches

Ruth's Prime Cheeseburger

prime ground beef, cheddar cheese, lettuce, tomato, red onion; chips

Chicken Sandwich

boneless chicken breast, grilled and topped with swiss cheese, lettuce, tomato & red onion on a brioche bun; chips
Allergens: These items may include unlisted ingredients and/or be prepared on equipment that processes allergens. Take precautions if you have an allergy.