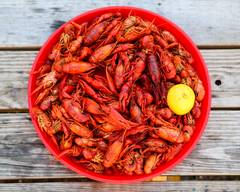 Atlanta Fish Market
$ • American • Seafood
4.4
(52)
  •  
View delivery time and booking fee.
Location and hours
265 Pharr Rd Ne, Atlanta, GA 30305
Sunday - Thursday
11:30 AM - 08:45 PM
Friday - Saturday
11:30 AM - 09:45 PM
265 Pharr Rd Ne, Atlanta, GA 30305 • More info
---
Fresh Catch

Maine Cod

Whipped potato and vegetable medley.

Ga Mountain Rainbow Trout

Whipped potato and vegetable medley.

Atlantic Mahi Mahi

Whipped potato and vegetable medley.

Maine Sea Scallops

Whipped potato and vegetable medley.

Chilean Sea Bass

Vegetable Medley, Whipped Potatoes

Idaho Salmon Trout

Whipped Potato, Vegetable Medley

Block Island Swordfish

Whipped potatoes, Vegetable medley

Yellowfin Tuna

Whipped potato and vegetable medley.

Scottish Salmon

Whipped potato and vegetable medley.

Boston Lemon Sole

Whipped potato and vegetable medley.

Nova Scotia Halibut

Whipped potato and vegetable medley.

Gulf Black Grouper

Whipped potato and vegetable medley.

American Red Snapper

Whipped potato and vegetable medley.

Appetizer Sushi Rolls

Spicy Tuna

Seven spices, chili sauce, and green onion.

Shrimp Tempura

Tempura fried shrimp and avocado.

Super Crunch

Shrimp tempura, tobiko, avocado, and BBQ eel sauce.

Yummi - Yummi

Tuna, salmon, cream cheese, and spicy mayonnaise.

Rainbow

Crab, cucumber, tuna, salmon, and hamachi.

Alaskan Special

King crab, cucumber, salmon, avocado, and cream cheese.

Volcano

Spicy tuna, cucumber, tuna, avocado, and spicy asian sauce.

BBQ Eel

BBQ unagi, avocado, wasabi, tobiko, kabayaki sauce.

Ocean Garden

Tuna hamachi, crab, avocado, fresh cucumber wrap, and yuzu.

Dragon

Shrimp tempura, eel, avocado, masago, and unagi sauce.

Bangkok Roll

Salmon, amber jack, avocado, eel sauce, thai chimicurri, and chili sauce.

Aji Nigiri Salmon

Salmon, fried sushi rice, chipotle mayonnaise, and black tobiko.

Lobster Maki

Tempura fried lobster tail, asparagus, spicy sauce, red tobiko, avocado, and kabayaki sauce.

Spider

Tempura fried soft shell crab, cucumber, and avocado.

From The Steaming Pots

Fresh Savannah Crab Bisque

Creamy New England Clam Chowder

Daily Fresh Seafood Gumbo

P.E.I Mussels Gilbert

Shallots, white wine, and cream.

Appetizer Specialties

Spinach and Artichoke Dip

Spicy Pow Pow Gulf Shrimp

Crispy Rhode Island Calamari

Garlic aioli and marinara sauce.

Speclalty Jumbo Lump Crab Cake (1/4 lb)

Crispy Sweet and Spicy Calamari

Signature Cold Water Lobster Tail (6 oz)

Lightly fried, honey-mustard aioli, drawn butter, and lemon.

Shrimp and Crab Cocktails

Jumbo Florida Shrimp Cocktail

Colossal Lump Crab Cocktail

Iced Half and Half Cocktail Colossal Lump Crab and Jumbo Shrimp

Pink brandy mayonnaise and red horseradish sauces.

Entree Specialties

Chicken Francese Double Chicken Breast Sauteed

Lemon butter and English peas in rice pilaf.

Sautéed Florida Grouper "Parisenne"

Lemon butter, capers, and medly of season vegetables.

Georgia Rainbow Trout Amandine

Toasted almonds, brown butter, thin green beans, and whipped potato.

Pecan Crusted Salmon Trout Filet

Bourbon honey butter, whipped sweet potato, and broccoli.

Baked Faroe Islands Salmon Parmesan Topping

grilled asparagus and crispy basil potato cake.

Fish and Chips Genuine Maine Cod

Beer batter maine cod, thin fries, cole slaw, side of malt vinegar, and tartar sauce.

Hong Kong Combo Chilean Sea Bass and Faroe Islands Salmon

Sherry soy broth, scallions, ginger, spinach, and bowl of sticky rice.

Lightly Fried Jumbo Florida Shrimp Platter

Maryland fries, tartar, and cocktail sauces.

Jumbo Lump Crab Cakes (1/4 lb)

Scallion whipped potato, thin beans, tartar, and mustard sauces.

Fried Seafood Platter

Jumbo Lump Crab Cake, Jumbo Florida Shrimp, Maine Sea Scallops, Today's Fresh Fish Filet, Cole Slaw, Maryland Fries, Lemon, Tartar Sauce

Gulf Shrimp Louie Salad Plate

Chopped lettuce, tomato salad, pink brandy mayonnaise, and deviled egg.

Genuine Alaskan "Red" King Crab Legs

1.25 lb, Whipped Potato, Thin Green Beans

Swordfish Steak-Cashew Cracked Pepper Crusted

Parmesan Grits, Green Beans, Mushrooms

Maine Skate Wing Meuniere

Lemon, Brown Butter, Capers, Sauteed Baby Spinach

Broiled Seafood Platter

Jumbo lump crab cake, jumbo Florida shrimp, Maine sea scallops, salmon filet, sauteed vegetable medly, whipped potato, and lemon tartar sauce.

Jumbo Fresh Maine Lobster Roll

Butter Toasted New England Bun, Fries Mayo Based

Salads

Tossed Milxed Greens Salad

Caesar Salad

Croutons are not gluten free .

Loaded Iceberg Wedge Salad

Tomato, warm bacon, and blue cheese dressing.

Dessert

Chocolate Toffee Crunch Pie

Rich chocolate toffee, oreo cookie crust, and caramel sauce.

New Orleans Style Bread Pudding

Italian rum, white raisins, and vanilla cream Anglaise.

Oreo Crusted Cheesecake

New York style and chocolate sauce.

Sides

Medley of Four Vegetables

Sauteed Baby Leaf Spinach

Twice Baked Asiago Potato

Lobster

Jumbo Fresh Maine Lobster Roll

Butter toasted New England bun and Maryland fries.

Maine Lobster Steamed and Cracked

Broiled Stuffed Lobster with Savory Crab Stuffing

Signature Jumbo Lobster Tail

Lightly fried, honey mustard aioli, and drawn butter.

Steaks

Prime Ribeye Steak (12 oz)

Nigiri and Sashimi

Sushi Appetizers

Hamachi Jalapeno

Diced hamachi, sashimi, seven spice, pepper, cilantro, jalapeno, and soy ginger.

Seaweed and Cucumber Salad

Seared Tuna, Seaweed, and Cucumber

Seaweed, soy, and ginger.