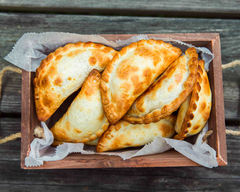 Makus Empanadas (Morgan Street Food Hall)
$ • Latin American
4.3
(64)
  •  
View delivery time and booking fee.
Location and hours
411 W Morgan St, Raleigh, NC 27603
Every Day
10:00 AM - 08:00 PM
411 W Morgan St, Raleigh, NC 27603 • More info
---
Empanadas

Pork Chimichurri Empanada

Bacon and Cheese Empanada

Onion and Cheese Empanada

Vegetarian

Sweet Corn Empanada

Vegetarian

Spinach Empanada

Vegetarian

Veggie Empanada

Zucchini, leek, rice, onion, carrots and spices.

Vegan

Chipa Bread

Chipa Bread

Latin American cheese bread.

Empadog

Empadog

Hot dog wrapped in empanada dough.

Meals

Makus Meal

Three empanadas, one side, one drink, and one sauce.

Kid's Meal

One empanada or empadog, one cookie and one drink.

Sides

Spinach Salad

Spinach, mix of greens, dried cranberries, glazed walnuts, and raspberry walnut vinaigrette.

Beans and Rice

Black beans and white rice.

Sauces

Chimichurri Sauce

Oil, vinegar, and spices.

Drinks

Sweets

Cochitos

Dulce de leche and coconut cookie.