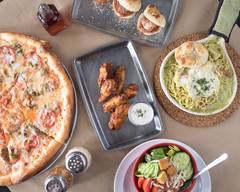 Old Town Pizza Parlor
4.2
(32)
  •  
View delivery time and booking fee.
Location and hours
108 Rio Grande Blvd Nw, Albuquerque, NM 87104
Sunday - Thursday
11:00 AM - 07:00 PM
Friday - Saturday
11:00 AM - 08:00 PM
This spot is among the hottest delivery spots on Uber Eats in all of Albuquerque. Want to do as the locals do? Consider ordering from Old Town Pizza Parlor then, because Albuquerque locals love it. Wish you could ask Old Town Pizza Parlor customers what's best here? Of the 52 things on the menu at this evening go-to, the hot wings is one ...
Show more
This spot is among the hottest delivery spots on Uber Eats in all of Albuquerque. Want to do as the locals do? Consider ordering from Old Town Pizza Parlor then, because Albuquerque locals love it. Wish you could ask Old Town Pizza Parlor customers what's best here? Of the 52 things on the menu at this evening go-to, the hot wings is one of the most-ordered items. • ¢¢ •
Pizza
 • 
Italian
 • 
Sandwich
108 Rio Grande Blvd Nw, Albuquerque, NM 87104 • More
---
Picked for you

Marinara and a Ricotta/ Mozzarella blend. Chose any 2 toppings from our pizza toppings.

Roasted pineapple, Canadian bacon, and thinly sliced red onions.

Green chilli, Italian sausage, extra cheese, and fresh Roma tomatoes.

Pepperoni, Italian sausage, mushrooms, bell peppers, red onion, black olives, fresh Roma tomatoes, and green chilli.

Pasta Entrees

Spaghetti, pesto cream sauce, artichoke hearts, sundried tomatoes, and mozzarella cheese. Served with garlic bread.

Classic Spaghetti and Marinara

Spaghetti topped with marinara sauce and finished with a dusting of parmesan cheese. Served with garlic bread.

Meatballs, marinara, ziti, and ricotta. Topped with mozzarella. Served with garlic bread.

Fettuccine tossed with green chile alfredo sauce. Topped with mozzarella. Served with garlic bread.

Tossed in alfredo sauce and layered with bacon, mozzarella, and breadcrumbs. Served with garlic bread.

Appetizers

Pizza dough wrapped around pepperoni and mozzarella and baked until golden. Served with marinara and creamy Italian.

3 Pieces Meatball Sliders

3 pieces. Meatballs topped with mozzarella and sandwiched between mini buns. Served with chips.

Crusty Garlic Cheese Bread

Bone-in Hot Wings... Please allow 25-30 for prep time

Spicy

Crisp Salads and Hot Soup

Romaine, pepperoni, mozzarella, Roma tomatoes, cucumbers, and black olives. Comes with croutons.

Romaine, feta cheese, black olives, pepperoncini, Roma tomatoes, and cucumbers. Comes with croutons.

Romaine hearts, crispy bacon, fresh Roma tomatoes, and grated parmesan. Comes with croutons.

Fresh baby spinach, toasted walnuts, sweet dried cranberries, red onion, blue cheese, and feta cheese. Comes with croutons.

Romaine, cucumbers, tomatoes, black olives, red onions, and mozzarella cheese. Comes with croutons.

Kid's Menu

Pizza

10'' Build Your Own Gluten Free Pizza

Gluten Free

Specialty Pizzas

Green chilli, Italian sausage, extra cheese, and fresh Roma tomatoes.

Italian sausage, pepperoni, sliced meatballs, and smoked ham.

Mushrooms, bell peppers, red onion, black olives, fresh Roma tomatoes, and green chilli.

Basil pesto base, roasted chicken, artichokes & sundried tomatoes.

Roasted pineapple, Canadian bacon, and thinly sliced red onions.

White sauce, peppered bacon, oven roasted chicken, and Italian parsley.

Hot Italian sausage, red chilli flake, green chilli, and jalapenos.

Black olives, fresh Roma tomatoes, evoo, local Tucumcari feta cheese, and pepperoncini.

White sauce, oven roasted chicken, whole roasted garlic cloves, and Italian parsley.

Pepperoni, Italian sausage, mushrooms, bell peppers, red onion, black olives, fresh Roma tomatoes, and green chilli.

Roma tomatoes, fresh basil, and evoo.

Colossal Calzones

Marinara and a Ricotta/ Mozzarella blend. Chose any 2 toppings from our pizza toppings.

Submarine Sandwiches

Meatball and Mozzarella Sandwich

Meatballs, marinara, and mozzarella. Served with chips.

Roasted chicken, artichokes, sundried tomatoes, pesto, and mozzarella. Served warm with chips.

Beverages

Cherry Flavored Coca-Cola

Desserts

Chocolate baked brownie. Topped with vanilla ice cream, chopped walnuts, and chocolate sauce.

Oven baked chocolate chip cookie. Topped with a huge scoop of vanilla ice cream.

Vanilla ice cream with whipped cream and cherry on top.

Sides